Okay, chicks and peeps, the time has come. Hadar at Miss Kindergarten asked me to host a linky party with her. I have never hosted a linky party before and I am a litttle nervous that I may just be left hanging. I'm calling on all of my friends to join (yes, I'm talking to {in no particular order} YOU, Farley, Kimberly, Reagan, Kim, Holly, Staci, Jennifer {all of them}, Jen, Erin, Rachelle, Camille, Heather, and Jill, just to name a few. And then I'd love to have some MORE people, too, so the MORE the MERRIER is what I always say. Well, not really. Usually, I say SHUT THE FRONT DOOR but honestly, that wouldn't be very hospitable of me when I am trying to invite people to a party, now would it?
So . . . without further ado, let me invite you to a Linky Party called ELEVEN in ELEVEN, as in 11 things from 2011. Look at the cute button Hadar made! (Just copy the code and paste it in your post using the Edit HTML part)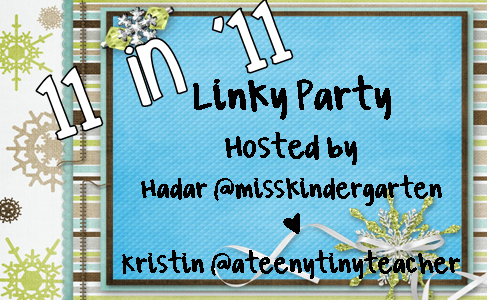 <center><a href="http://http://ateenytinyteacher.blogspot.com/2011/12/11-in-11.html/"><img border="0″ src="http://img.photobucket.com/albums/v447/darlingstar/Publication1.png"/></a></center>
11. Favorite movie you watched
The Help – I saw it twice in the movie theater and bought it as soon as it came out. I've watched it twice since then. If you haven't seen it (really, who hasn't? I'd like your name), go get it now.
10. Favorite TV series
This is hard because I love all things Reality and it's hard to pick one out of the bunch. So I'll go with non reality and say Parenthood. I love it. My parents love it, too. And we have good discussions about it. Plus, my older sister is just like Sarah. Really. And her kids are Amber and Drew. It's bizarre. So, although it may be fictional, it's sort of like Reality TV to me.
9. Favorite restaurant
Roma D' Italia. Oh, for the love of pasta. It has become a treat for the hubs, his aunt and uncle, and I to go there after church on Saturday nights. All four of us get the SAME THING – Tortellini Gustavo. It's that good. I only know of two locations and our "regular" one is better than the other. We found that out the hard way when the hubs and I finally decided to order a salad and SPLIT the pasta. The portion was way smaller than our "regular" location and we were sad. Tho Thad.
Isn't it cute? "Regular" location
8. Favorite new thing you tried
This is hard for me because I tend to be afraid of change and trying new things. So I'm going to take the easy way out and say I tried blogging over the summer and it's been great. Turns out I can do it. (unlike that time I tried to ski, hit a ball at the batting cages, hit a ball at the driving range, drive a quad, row a canoe, or rock climb)
7. Favorite gift you received
My kindle. That little device has changed my life. Except it makes me want an iPad 2. And then I would desert the poor little thing faster than you can say Mac.
6. Favorite thing you pinned
Um, well . . . see, the thing is . . . it would have to be . . . hmmm.
People, I'm not addicted to pinning. People are following me but I have no idea why because I can't think of the last thing I pinned. I don't know what my deal is and I do feel odd about it. Like that time I was the only one of my friends who didn't have baby fever.
5. Favorite blog post
Well, we all know that's my Halloween post. I loved writing it. Living through it was a whole 'nother thing but finally writing it down was therapeutic.
4. Favorite accomplishment
Being invited to be an author for Teaching Blog Addict. Yahoo!!!
3. Favorite picture
This is Kerry and me with our best friend, Caryn.
We have been friends since childhood.
This was taken during the summer in Oklahoma
and we had just eaten at Teds.
Need I say more?
PS I would have put a picture of the hubs and me from our whirlwind trip to North and South Carolina in June, but he prefers to stay out of this blog. I know. Opposites attract.
2. Favorite memory
Foster, my dog. September 9, 1999 to July 12, 2011. We were going to put him down on July 13 but we weren't sure if we should. We kept going back and forth – it was awful. We just could not decide if we were doing the right thing. On the night of July 11, I couldn't sleep. I stayed up most of the night, crying and praying. I was a mess. And then Foster went on his own the next morning. I know it's a weird favorite memory but it sums him up perfectly. He made it easy for us. And God was merciful. And I never have to wonder if I did the right thing. Foster was such a good boy – I'm not exaggerating when I say that everyone who met him loved him and more than a handful of people cried when they heard the news of his passing. He was my big boy.
Foster on his last day
(before I knew it would be his last day)
1. Goal for 2012
In life: I want to start serving at our local homeless shelter and/or going to Mexico once a month with our church to work with orphans. I keep saying it but it's time I DO it. (Man, does this sound serious or what?)
In school: I want to become a better math teacher. I should not be afraid of manipulatives. It's not normal. And I really want to institute wearing scrubs every day. You know how the medical profession has cute scrubs with teddy bears and other things? We could have sight words and math facts and continents and penguins and gingerbread men and and and . . . it would be great because they would feel like pajamas and we wouldn't have to wonder what to wear each day and/or iron or throw things in the dryer to fluff them up. Not to mention, I would be okay if I sat in pee if I was wearing scrubs. (YES. I sat in pee. It was Fun Friday and one of my students was playing teacher and having way too much Fun in Fun Friday to go to the bathroom. So she wet her pants and then kept sitting in my teacher chair, pretending to be me. And never told me. So when Fun Friday was over, and we were all on the carpet with our backpacks, I sat in my chair. In pee. Uh huh. Yep.) Scrubs. Enough said.
All right. So that's my 11 in 2011. And if you can't tell, I'm still a little nervous that I'm hosting this party with Hadar because I don't want to let her down. Please come to our party! 🙂 THANK YOU! Link up below!