It's a new day and I'm going to get out of the shower and put on actual clothes instead of pajamas! 🙂
I'm starting this day off with a Blog Mixer Linky Party that Yearn to Learn is hosting. This is a great way to find some new blogs that you might not know about!
Here's what you need to find and list. This reminds me of a Scavenger Hunt – I must win!
1. A blogger who is a "New Kid on the Blog"
(Let's say someone who has blogged 2 months or less and has less than 200 followers)
2. Post a blogger in your same grade level
3. Post a blogger in a different grade level
4. It's all about the button. Find a cute blog button and post it.
Ready, Set, Go!
1. My kid blogger is Kristin at All I Really Need to Know, I Learned in Kindergarten. She is so new that I literally became her first follower a minute ago. She was following me and YES, I picked her because we have the same name and spell it the same way!!!! I hope you'll go give her some love.
2. I love all of the first grade blogs. Hmmmmm. I'm going to go with Rachelle at What the Teacher Wants. (She also shares the blog with Natalie, a 5th grade teacher but don't worry about that. I don't think I'm cheating) I reached out to Rachelle at the very beginning of my blogging adventure and she was quick to reply! Thank you, Rachelle! Plus, she always has great stuff to share and a million followers so you know she's good!
3. I am addicted to the Kindergarten blogs and they all make me feel like I want to teach Kindergarten! I love Hadar over at Miss Kindergarten You should definitely check her out if you don't know her . . . but somehow I think everyone does. It was her birthday recently and blogs were celebrating everywhere. Seriously! Plus, she highlighted some of my free worksheets which I think made people come visit me! 🙂
4. I LOVE Kimberly's button. She is amazing and always responds to emails and introduced my blog. She is also short – we are both 4'11" !!! Although my driver's license says I'm 5′ so I would appreciate it if you wouldn't mention my real height. Thanks!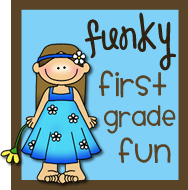 Isn't it adorable??? And I love the alliteration of her blog name.
Now it's your turn and you better hurry because I think I'm winning! 🙂
Go link up with Yearn to Learn and start hunting around for those blogs to spotlight!
I may be back later with some more free stuff but first, I am off to plan with my partner, have a loooooong lunch at the Olive Garden (can you say breadsticks and alfredo sauce!?) and then shopping at our local teacher supply store, CM. See you later!