Double Double!
Mmmm, yes, In and Out does sound good right about now, doesn't it?
But what I mean is that Monica over at the Schroeder Page put me in her Top 10, too!!!
Seriously? SERIOUSLY! 🙂 Monica is one of the amazing bloggers who started Me and My Gang. She's the one who graciously allows me to be an author for the First Grade Lounge over there. Her stuff is so cute and adorable! I just can't believe it! Surely you know her, but if not, go there NOW!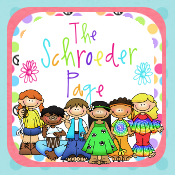 I am honored that two different, amazing bloggers put me in their Top Ten. Whoa!!!! This is why I'm having my giveaway . . . I just have no other way of expressing my gratitude for all of the support from this community. If you haven't entered my giveaway, you still have until midnight tonight, Pacific Standard Time. Just click HERE.
Toodles!!!!!! 🙂